BAS World
In stock: 446 ads
6 years at Machineryline
The ad Mercedes-Benz Sprinter 310 CDI 34Meter Verhuislift Lift Meubellift Böcker Boec ladder lift truck has been sold and is not included in the search!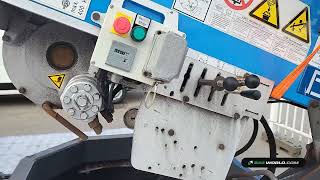 1/27
Model
Sprinter 310 CDI 34Meter Verhuislift Lift Meubellift Böcker Boec
First registration
2016-07-25
Location
Netherlands
Veghel
Placed on
more than 1 month
Description
Overall dimensions
length - 6.33 m, width - 1.96 m
More details
Colour
metallic, metallic
= Additional options and accessories =Characteristics. Chassis height: 62. Interior. Arnrest; Electric mirror control; USB. Lighting. Headlight type: halogen. Safety Systems. Number of airbags: 2. Superstructure. Floor Material; Superstructure construction year: 2016. = Dealer information =. BAS World is your go-to specialist for vans and commercial vehicles. With a stock of over 400 units, we always have the right vehicle for you. Our stock includes all brands, models and configurations. BAS World is located in Veghel, the Netherlands. Our workshop can equip your new commercial vehicle with a wide variety of accessories. For example: installation of a towbar, side-door, tail lift, reversing camera and more. In summary, at BAS World it's possible to configure your new vehicle according to your wishes. Do you prefer leasing? BAS World can provide leasing for the Netherlands, Belgium, Germany, Romania, Poland, Slovakia, Czech-Republic, Bulgaria, Croatia, Ukraine, Albania, Kosovo, Lithuania, Latvia and Estonia. For our international clients, we offer worldwide transport and shipping. If you want to pick up your vehicle in Veghel, we offer free airport transfer from Eindhoven airport. (20 minutes) We can also provide a variety of transit plates. Please contact us for more information and details. Our business hours: - Monday-Friday: 08:30AM – 06:00PM. - Saturday 09:00AM – 01:00PM. - In the evening by appointment. For more information, photos (360 º) and an HD video inspection please visit our website. = More information =. Number of seats: 2. VAT/margin: VAT qualifying. Registration number: VX-634-Z
Подлакътник; Радио с USB порт; Халогенни фарове. BAS World е вашият специалист за микробуси и търговски превозни средства. С запас от над 400 бройки, ние винаги имаме подходящото превозно средство за вас. Нашият склад включва всички марки, модели и конфигурации. BAS World се намира във Вегел, Холандия. Нашият сервиз може да оборудва новото ви търговско превозно средство с голямо разнообразие от аксесоари. Например: монтаж на теглич, странична врата, повдигане на опашката, камера за заден ход и други. В обобщение, в BAS World е възможно да конфигурирате новото си превозно средство според вашите желания. Предпочитате лизинг? BAS World може да предостави лизинг за Холандия, Белгия, Германия, Румъния, Полша, Словакия, Чехия, България, Хърватия, Украйна, Албания, Косово, Литва, Латвия и Естония. За нашите международни клиенти ние предлагаме транспорт и доставка по целия свят. Ако искате да вземете автомобила си във Вегел, ние предлагаме безплатен трансфер до летището от летището в Айндховен. (20 минути) Можем да предоставим и различни транзитни табели. Моля, свържете се с нас за повече информация и подробности. Нашето работно време: - Понеделник-петък: 08:30 - 18:00. - Събота: 09:00 - 13:00. - Вечерта по уговорка. За повече информация, снимки (360 º) и HD видео инспекция, моля посетете нашия уебсайт.
= Weitere Optionen und Zubehör =Aufbau. Aufbau Baujahr: 2016; Material des Bodens. Beleuchtung. Scheinwerfertyp: halogen. Charakteristik. Fahrgestellhöhe: 62. Innere. Armlehne; Elektrische Spiegelkontrolle; USB. Sicherheitssysteme. Anzahl der Airbags: 2. = Firmeninformationen =. BAS World ist Ihr Spezialist für Transporter und Nutzfahrzeuge. Mit einem Bestand von über 400 Einheiten haben wir immer das richtige Fahrzeug für Sie. Unser Bestand umfasst alle Marken, Modelle und Konfigurationen. BAS World hat seinen Sitz in Veghel (Niederlande). In unserer Werkstatt können Sie Ihr neues Nutzfahrzeug mit verschiedenem Zubehör ausstatten. Zum Beispiel: Anbau einer Anhängerkupplung, Seitentür, Ladebordwand, Rückfahrkamera und mehr. Zusammenfassend ist es bei BAS World möglich, Ihr neues Fahrzeug nach Ihren Wünschen zu konfigurieren. Bevorzugen Sie Leasing? BAS World können Leasing für die Niederlande, Belgien, Deutschland, Rumänien, Polen, die Slowakei, die Tschechische Republik, Bulgarien, Kroatien, die Ukraine, Albanien, das Kosovo, Litauen, Lettland und Estland anbieten. Für unsere internationalen Kunden bieten wir weltweiten Transport und Versand an. Wenn Sie Ihr Fahrzeug in Veghel abholen möchten, bieten wir einen kostenlosen Flughafentransfer vom Flughafen Eindhoven an. (20 Minuten) Wir können auch verschiedene Transitschilder anbieten. Bitte kontaktieren Sie uns für weitere Informationen und Details. Unsere Geschäftszeiten: - Montag - Freitag: 08:30 - 18:00 Uhr. - Samstag: 09:00 - 13:00 Uhr. - Abends nach Vereinbarung. Weitere Informationen, Fotos (360°) und eine HD-Videoinspektion finden Sie auf unserer Website. = Weitere Informationen =. Zahl der Sitzplätze: 2. Mehrwertsteuer/Differenzbesteuerung: Mehrwertsteuer abzugsfähig. Kennzeichen: VX-634-Z
= Más opciones y accesorios =Características. Altura del chasis: 62. Carrocería. Año de construcción de la superestructura: 2016; Material del piso. Iluminación. Tipo de faro: halogen. Interior. Brazo; Control de espejo eléctrico; USB. Sistemas de seguridad. Cantidad de bolsas de aire: 2. = Información de la empresa =. BAS World es su especialista de referencia para furgonetas y vehículos comerciales. Con un stock de más de 400 unidades, siempre tenemos el vehículo adecuado para usted. Nuestro stock incluye todas las marcas, modelos y configuraciones. BAS World se encuentra en Veghel, Países Bajos. Nuestro taller puede equipar su nuevo vehículo comercial con una amplia variedad de accesorios. Por ejemplo: instalación de una barra de remolque, puerta lateral, elevador trasero, cámara de marcha atrás y más. En resumen, en BAS World es posible configurar su nuevo vehículo de acuerdo con sus deseos. ¿Prefieres el arrendamiento? BAS World puede proporcionar arrendamiento financiero para los Países Bajos, Bélgica, Alemania, Rumania, Polonia, Eslovaquia, República Checa, Bulgaria, Croacia, Ucrania, Albania, Kosovo, Lituania, Letonia y Estonia. Para nuestros clientes internacionales, ofrecemos transporte y envío a nivel mundial. Si desea recoger su vehículo en Veghel, ofrecemos traslado gratuito desde el aeropuerto de Eindhoven. (20 minutos) También podemos proporcionar una variedad de placas de tránsito. Por favor contáctenos para más información y detalles. Nuestro horario de atención: - De lunes a viernes: 08:30 a.m. a 6 p.m. - Sábado de 09:00 a.m. a 01:00 p.m. Para obtener más información, fotos (360º) y una inspección de video HD, visite nuestro sitio web. = Más información =. Número de plazas sentadas: 2. IVA/margen: IVA deducible. Matrícula: VX-634-Z
= Plus d'options et d'accessoires =Caractéristiques. Hauteur de châssis: 62. Construction. Année de construction de la superstructure: 2016; Matériau du sol. Intérieur. Accoudoir; Commande de miroir électrique; USB. Systèmes de sécurité. Quantité d'airbags: 2. Éclairage. Type de phare: halogen. = Information sur la société =. BAS World est votre spécialiste incontournable des camionnettes et des véhicules utilitaires. Avec un stock de plus de 400 unités, nous avons toujours le bon véhicule pour vous. Notre stock comprend toutes les marques, modèles et configurations. BAS World est situé à Veghel, aux Pays-Bas. Notre atelier peut équiper votre nouveau véhicule utilitaire d'une grande variété d'accessoires. Par exemple: installation d'une barre de remorquage, d'une porte latérale, d'un hayon élévateur, d'une caméra de recul et plus encore. En résumé, chez BAS World, il est possible de configurer votre nouveau véhicule selon vos souhaits. Préférez-vous la location? BAS World peut fournir un leasing pour les Pays-Bas, la Belgique, l'Allemagne, la Roumanie, la Pologne, la Slovaquie, la République tchèque, la Bulgarie, la Croatie, l'Ukraine, l'Albanie, le Kosovo, la Lituanie, la Lettonie et l'Estonie. Pour nos clients internationaux, nous proposons le transport et l'expédition dans le monde entier. Si vous souhaitez récupérer votre véhicule à Veghel, nous proposons un transfert aéroport gratuit depuis l'aéroport d'Eindhoven. (20 minutes) Nous pouvons également fournir une variété de plaques de transit. Veuillez nous contacter pour plus d'informations et de détails. Nos heures d'ouverture: - Lundi-vendredi: 08h30 - 18h00. - Samedi 09h00 - 13h00. - Le soir sur rendez-vous. Pour plus d'informations, des photos (360º) et une inspection vidéo HD, veuillez visiter notre site Web. = Plus d'informations =. Nombre de places assises: 2. TVA/marge: TVA déductible. Numéro d'immatriculation: VX-634-Z
Halogeni farovi; Naslon za ruku; Radio s USB priključkom. BAS World je vaš specijalista za kombije i komercijalna vozila. S zalihom od preko 400 jedinica, uvijek imamo pravo vozilo za vas. Naša zaliha uključuje sve marke, modele i konfiguracije. BAS World se nalazi u mjestu Veghel, Nizozemska. Naša radionica može vaše novo komercijalno vozilo opremiti širokim spektrom opreme. Na primjer: ugradnja vučne trake, bočna vrata, stražnja vrata, kamera za vožnju unazad i drugo. Ukratko, na BAS World moguće je novo vozilo konfigurirati prema vašim željama. Da li više volite leasing? BAS World mogu pružati leasing za Nizozemsku, Belgiju, Njemačku, Rumunjsku, Poljsku, Slovačku, Češku, Bugarsku, Hrvatsku, Ukrajinu, Albaniju, Kosovo, Litvu, Latviju i Estoniju. Za naše međunarodne klijente nudimo prijevoz i otpremu širom svijeta. Ako želite preuzeti vozilo u Veghelu, nudimo besplatan prijevoz do zračne luke iz zračne luke Eindhoven. (20 minuta) Možemo ponuditi i razne tranzitne tablice. Molimo kontaktirajte nas za više informacija i detalja. Naše radno vrijeme: - Ponedjeljak-petak: 08:30 - 18:00. - Subota: 09:00 - 13:00. - Navečer po dogovoru. Za dodatne informacije, fotografije (360 º) i HD video pregled posjetite našu web stranicu.
Caratteristiche. Altezza del telaio: 62. Carrozzeria. Anno di costruzione della sovrastruttura: 2016; Materiale del pavimento. Illuminazione. Tipo di faro: halogen. Interno. Bracciolo; Controllo elettrico dello specchio; USB. Sistemi di sicurezza. Quantità di airbag: 2. BAS World è il tuo specialista di riferimento per furgoni e veicoli commerciali. Con uno stock di oltre 400 unità, abbiamo sempre il veicolo giusto per te. Il nostro magazzino comprende tutte le marche, i modelli e le configurazioni. BAS Vans si trova a Veghel, nei Paesi Bassi. La nostra officina può equipaggiare il tuo nuovo veicolo commerciale con una vasta gamma di accessori. Ad esempio: installazione di un gancio di traino, porta laterale, sponda montacarichi, telecamera di retromarcia e altro. In sintesi, presso BAS World è possibile configurare il nuovo veicolo in base ai propri desideri. Preferisci il leasing? BAS Vans può fornire servizi di leasing per Paesi Bassi, Belgio, Germania, Romania, Polonia, Slovacchia, Repubblica Ceca, Bulgaria, Croazia, Ucraina, Albania, Kosovo, Lituania, Lettonia ed Estonia. Offriamo ai nostri clienti internazionali trasporti e spedizioni in tutto il mondo. Se desideri ritirare il tuo veicolo a Veghel, ti offriamo il trasferimento gratuito dall'aeroporto di Eindhoven. (20 minuti) Possiamo anche fornire una varietà di piastre di transito. Vi preghiamo di contattarci per ulteriori informazioni e dettagli. Il nostro orario di lavoro: - Lunedi-Venerdì: 08:30 - 18:00. - Sabato: 09:00 - 13:00. - La sera entro appuntamento. Per ulteriori informazioni, foto (360 º) e un'ispezione video HD, visitare il nostro sito Web.
= Aanvullende opties en accessoires =Interieur. Armleuning; Elektrische spiegelbediening; USB. Kenmerken. Chassishoogte: 62. Opbouw. Bouwjaar opbouw: 2016; Materiaal vloer. Veiligheidssystemen. Aantal airbags: 2. Verlichting. Koplamptype: halogen. = Bedrijfsinformatie =. BAS World is de goedkoopste van Nederland in nieuwe en gebruikte lichte bedrijfswagens. Onze voorraad bedrijfswagens van ruim 300 voertuigen wisselt continu. De voorraad omvat uiteenlopende merken, modellen en types waardoor wij u altijd kunnen voorzien van de geschikte bedrijfswagen. Daarnaast heeft u ook de optie om uw bedrijfswagen in te ruilen bij ons. Onze professionele werkplaats kan uw nieuwe bedrijfswagen voorzien van aanpassingen zoals het monteren van een trekhaak, camera, betimmering, imperiaal en alle andere denkbare extra's. Ook bieden wij de mogelijkheid om uw bedrijfswagen te spuiten, bestickeren of volledig te wrappen. Kortom, bij BAS World is het mogelijk om uw bedrijfswagen compleet naar eigen wens samen te stellen. Wilt u een compleet nieuwe Renault bedrijfswagen geheel naar eigen wens? Wij leveren u, als officiële Renault dealer, op bestelling en uit voorraad een nieuwe Renault bedrijfswagen. Liever een bedrijfswagen leasen? Ook dat kan bij BAS World, bijvoorbeeld via onze eigen leasemaatschappij BAS Lease met soepele accreditatie is het leasen zo geregeld voor u. Neem vrijblijvend contact op voor meer informatie over de mogelijkheden of een offerte op maat van BAS Lease. Openingstijden: • Maandag – vrijdag: 08:30 tot 18:00. • Zaterdag 09:00 tot 13:00. • Ook bent u s 'avonds op afspraak welkom. U vindt BAS World direct aan de A50 bij afslag Veghel (tussen Eindhoven en Nijmegen). - Vanaf Nijmegen 40 minuten. - Vanaf Utrecht 60 minuten. - Vanaf Rotterdam 75 minuten. - Vanaf Amsterdam 80 minuten. - Vanaf Antwerpen 90 minuten. Voor meer informatie, foto's (360 graden) en een HD video inspectie kunt u terecht op onze website. = Meer informatie =. Bekleding: Stof. Aantal zitplaatsen: 2. BTW/marge: BTW verrekenbaar voor ondernemers. Kenteken: VX-634-Z
= Więcej opcji i akcesoriów =Charakterystyka. Wysokość podwozia: 62. Oświetlenie. Typ reflektorów: halogen. Rozszerzone info. Materiał podłogi; Rok budowy nadbudowy: 2016. Systemy bezpieczeństwa. Ilość poduszek powietrznych: 2. Wnętrze. Elektryczna kontrola lustra; Podłokietnik; USB. = Informacje o przedsiębiorstwie =. BAS World to specjalista od furgonetek i pojazdów użytkowych. Dysponując ponad 400 jednostkami, zawsze mamy dla Ciebie odpowiedni pojazd. Nasze zapasy obejmują wszystkie marki, modele i konfiguracje. BAS World znajduje się w Veghel w Holandii. Nasz warsztat może wyposażyć Twój nowy samochód dostawczy w szeroką gamę akcesoriów. Na przykład: instalacja haka holowniczego, drzwi bocznych, windy załadowczej, kamery cofania i innych. Podsumowując, w BAS World można skonfigurować nowy pojazd zgodnie z własnymi życzeniami. Wolisz leasing? BAS World oferuje leasing dla Holandii, Belgii, Niemiec, Rumunii, Polski, Słowacji, Czech, Bułgarii, Chorwacji, Ukrainy, Albanii, Kosowa, Litwy, Łotwy i Estonii. Dla naszych międzynarodowych klientów oferujemy transport i spedycję na całym świecie. Jeśli chcesz odebrać samochód w Veghel, oferujemy bezpłatny transfer z lotniska w Eindhoven. (20 minut) Możemy również zapewnić różne tablice transportowe. Skontaktuj się z nami, aby uzyskać więcej informacji i szczegółów. Nasze godziny pracy: - Poniedziałek-piątek: 08:30 - 18:00. - Sobota: 09:00 - 13:00. - Wieczorem po uzgodnieniu. Aby uzyskać więcej informacji, zdjęć (360 º) i kontroli wideo HD, odwiedź naszą stronę internetową. = Więcej informacji =. Liczba miejsc siedzących: 2. VAT/marża: Możliwość odliczenia podatku VAT. Numer rejestracyjny: VX-634-Z
= Opções e acessórios adicionais =Características. Altura do chassi: 62. Construção. Ano de construção da superestrutura: 2016; Material do chão. Iluminação. Tipo de farol: halogen. Interior. Apoio de braço; Controle de espelho elétrico; USB. Sistemas de segurança. Quantidade de airbags: 2. = Informações do concessionário =. A BAS World é sua especialista em vans e veículos comerciais. Com um estoque de mais de 400 unidades, sempre temos o veículo certo para você. Nosso estoque inclui todas as marcas, modelos e configurações. A BAS World está localizada em Veghel, na Holanda. Nossa oficina pode equipar seu novo veículo comercial com uma ampla variedade de acessórios. Por exemplo: instalação de uma barra de reboque, porta lateral, plataforma traseira, câmera de ré e muito mais. Em resumo, na BAS Vans é possível configurar seu novo veículo de acordo com seus desejos. Você prefere alugar? A BAS World pode fornecer leasing para a Holanda, Bélgica, Alemanha, Romênia, Polônia, Eslováquia, República Tcheca, Bulgária, Croácia, Ucrânia, Albânia, Kosovo, Lituânia, Letônia e Estônia. Para nossos clientes internacionais, oferecemos transporte e remessa mundial. Se você quiser pegar seu veículo em Veghel, oferecemos transporte gratuito do aeroporto de Eindhoven. (20 minutos) Também podemos fornecer uma variedade de placas de trânsito. Entre em contato conosco para mais informações e detalhes. Nosso horário comercial: - De segunda a sexta-feira: 08:30 - 18:00. - sábado 09:00 - 13:00. - À noite, mediante agendamento. Para mais informações, fotos (360º) e inspeção de vídeo em HD, visite nosso site. = Mais informações =. Número de bancos: 2. IVA/margem: IVA elegível. Número de registo: VX-634-Z
Caracteristici. Înălțimea șasiului: 62. Constructie. Construcție anstructură: 2016; Materialul podelei. Iluminat. Tipul farurilor: halogen. Interior. Controlul oglinzii electrice; Cotiera; USB. Sisteme de siguranță. Numărul de airbag-uri: 2. BAS World este specialistul dumneavoastră pentru autoutilitare și vehicule comerciale. Cu un stoc de peste 400 de unități, avem întotdeauna vehiculul potrivit pentru dvs. Stocul nostru include toate mărcile, modelele și configurațiile. BAS World este localizat în Veghel, Olanda. Atelierul nostru vă poate echipa noul dvs. vehicul comercial cu o mare varietate de accesorii. De exemplu: instalarea unei bara de remorcare, a unei părți laterale, a unei ridicări a cozii, a camerei de mers și multe altele. Pe scurt, la BAS World este posibil să vă configurați noul vehicul în funcție de dorințele dvs. Preferi închirierea? BAS Fans poate asigura leasing pentru Olanda, Belgia, Germania, România, Polonia, Slovacia, Republica Cehă, Bulgaria, Croația, Ucraina, Albania, Kosovo, Lituania, Letonia și Estonia. Pentru clienții noștri internaționali, oferim transport și transport mondial. Dacă doriți să vă ridicați vehiculul în Veghel, vă oferim transfer gratuit de la aeroport de la aeroportul Eindhoven. (20 minute) Putem oferi, de asemenea, o varietate de plăci de tranzit. Vă rugăm să ne contactați pentru mai multe informații și detalii. Orele noastre de afaceri: - Luni-vineri: 08:30 - 06:00 PM. - Sâmbătă: 09:00 - 01:00 PM. - Seara, prin programare. Pentru mai multe informații, fotografii (360 º) și o inspecție video HD, vă rugăm să vizitați site-ul nostru web.
= Дополнительные опции и оборудование =Осветительные приборы. Тип фары: halogen. Системы безопасности. Количество подушек безопасности: 2. Характеристики. высота корпуса: 62. интерьер. USB; Подлокотник; Управление электрическим зеркалом. кузов. Год постройки надстройки: 2016; Материал пола. = Информация о дилере =. BAS World - ваш специализированный специалист по фургонам и коммерческим автомобилям. С запасом более 400 единиц, у нас всегда есть подходящий автомобиль для вас. Наш ассортимент включает в себя все бренды, модели и конфигурации. BAS World находится в Вегеле, Нидерланды. Наша мастерская может оснастить ваш новый коммерческий автомобиль разнообразными аксессуарами. Например: установка фаркопа, боковой двери, гидроборта, камеры заднего хода и многое другое. Таким образом, в BAS World можно настроить ваш новый автомобиль в соответствии с вашими пожеланиями. Вы предпочитаете лизинг? BAS Vans может предоставить лизинг для Нидерландов, Бельгии, Германии, Румынии, Польши, Словакии, Чехии, Болгарии, Хорватии, Украины, Албании, Косово, Литвы, Латвии и Эстонии. Для наших международных клиентов мы предлагаем транспортировку и доставку по всему миру. Если вы хотите забрать свой автомобиль в Вегеле, мы предлагаем бесплатный трансфер из аэропорта Эйндховена. (20 минут) Мы также можем предоставить различные транзитные номера. Пожалуйста, свяжитесь с нами для получения дополнительной информации и деталей. Наши рабочие часы: - Понедельник-пятница: с 08:30 до 18:00. - Суббота: с 09:00 до 13:00. - Вечером назначение. Для получения дополнительной информации, фотографий (360 º) и просмотра HD-видео посетите наш веб-сайт. = Дополнительная информация =. Количество мест: 2. НДС/маржа: С вычетом НДС. Регистрационный номер: VX-634-Z